Small history of the origin of the cocoa trip from its land to our modern taste buds.
Good mood and chocolate…
His name Theobroma , given more than two centuries before, means » food of the gods « . Cocoa is grown in many parts of the world : South America , West Africa , South East Asia and some Caribbean islands.
But its story begins, there are thousands of years in Latin America. Object of barter, fertility symbol or preliminary to marriage , it landed by boat and caught the heart of the royal court of Spain before conquering all of Europe in the 16th century .
Louis XIV also regales his court by introducing it to the Palace of Versailles.
Today, chocolate has become a European knowledge shared between Switzerland, Belgium and France in particular.
France has greatly introduced this tasty bean in its gastronomy . It also integrate renowned hotels and restaurants menus and traditional pastries.
With its more general marketing late 19th century and early 20th, it has attracted the largest number and has been introduced in our daily food.
Chocolate, a sweetness that ennivre us.
Who, after a stressful day never said, « I want chocolate ! »
Or after a little bit of blues , you catch yourself falling for a small square of chocolate…
Because chocolate is good for who ? For us !

It seems chocolate is a natural antidepressant . It contains carbohydrates that rise to any increase of the amino acid tryptophan , which converts into serotonin in the brain plays a key role in stabilizing mood.
It is a singular food , which acts on the couple anxiety – calmness, it would bring euphoria and well being while stimulating physical and mental activity without side effects.
Taste chocolate is already a pleasure, pleasure which affects mood and against depression … It is a delicious anti-stress.
We love it and the doctors recommande it to us .
Chocolate is a stimulant containing magnesium, a mineral that is involved in neuromuscular transmission of nerve impulses while triggering a relaxing effect.
It activates other effects neurotransmettreurs such as Dopamine.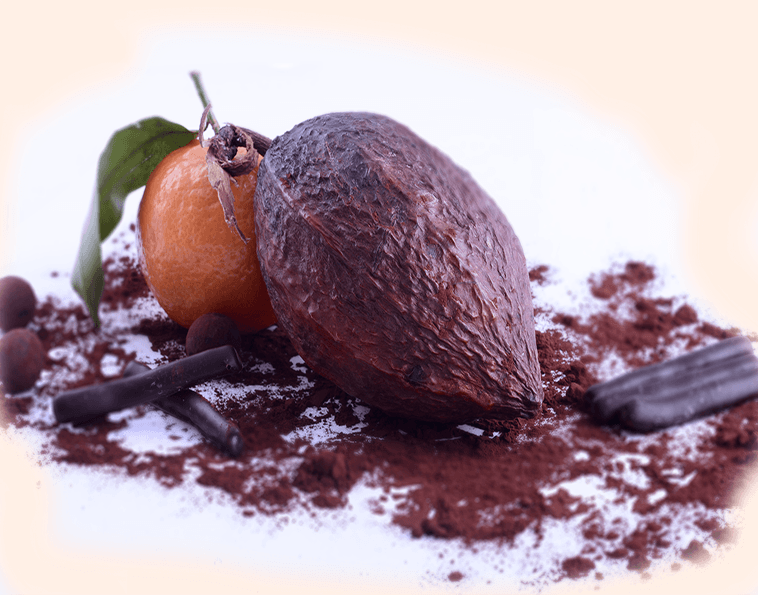 So, antidepressant and uplifting chocolate is the friend of our body and our psyche in moderate doses , it soothes us and boosts us.
Life is great with chocolate ! For a shared or greedy solitary pleasure .
While the chocolate has physical and psychological virtues with some taste, sweetness , fragrance , it brings memory back to our childhood. It n through our emotions, happy moments at snack time where many children from all backgrounds , could munch a bar of chocolate in a piece of bread !
At moderate dose, it can accompany your happy hours and your darkest hours, it brings light and smooth. If we knew how to make a treat that melts in the mouth is that it returns us to our primitive orality , the baby love the womb . Learn to enjoy it as a sensual pleasure, it will tell you …
Love without complex … Remember that man needs a touch of madness !